---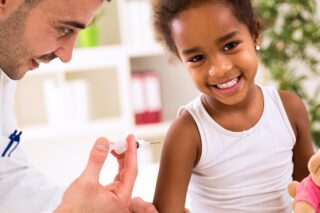 Every year when August comes around, parents begin preparing their children for the coming school year.  September and school are just around the corner and it's time to stock up on school supplies, think about new shoes and clothes, and most important, make sure kids are ready for a healthy start to the school year.  Families are scheduling dental and medical check-ups and making sure children are up to date on their vaccines.  Most schools will require documentation that students are current on essential vaccines before they can return to the classroom.
Over the past few years, some parents have been reluctant to vaccinate their children as a result of now-discredited reports that circulated at one time linking vaccines to negative health outcomes.  There is no valid evidence that vaccines are harmful to children.  More important, we need to remember that vaccines have saved millions of lives.  Vaccines for diseases like polio, whooping cough, tetanus, and measles have been around for so long it's hard for most of us to remember how terrible epidemics of these diseases were. As an example, polio was once one of America's most feared diseases, killing and paralyzing children and adults at an alarming rate.
Today, polio has essentially been eradicated. Here's another example – the DTaP and Tdap vaccines for tetanus, diphtheria and pertussis or whooping cough are a standard part of the immunization schedule for children (adults should also get regular boosters).  DTaP is administered to infants and young children while Tdap is for older children and adults.  Few of us have witnessed outbreaks of diphtheria or whooping cough, but our grandparents can tell us how frightening these outbreaks were or about losing friends and family members to these diseases, which are beginning to break out once again in regions around the world where vaccines aren't readily available.  A great article in National Geographic describes the history of disease before vaccines:  https://www.nationalgeographic.com/culture/article/cannot-forget-world-before-vaccines .
This is the perfect time of year to focus on updating children's vaccines.   Your child's pediatrician will recommend the vaccines appropriate for their age.
You can also check this table available from the CDC: https://www.cdc.gov/vaccines/schedules/hcp/imz/child-adolescent.html.  Make your appointment now to ensure your children are protected and ready for school or day care.  And you may also want to check with your own primary care provider to be sure you are up to date on vaccines as well!
---