Getting to Know Us: Chelsea Spiegelhalder, PA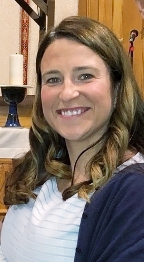 Chelsea Spiegelhalder's family has deep roots in Coatesville.  Her grandmother was a nurse at Coatesville Hospital long before it became Brandywine Hospital.  Her father was a pharmacist.  All of her family members have volunteered in local organizations and in their church. Chelsea herself has served on the Board of Directors of a local nonprofit.  Many of her patients know her or her family because of their work in the community.  That relationship often makes it easier for patients to trust Chelsea's advice about managing their health.
Chelsea's father was diagnosed with Type 1 diabetes when he was 7.  In part because of her dad's experience, her passion is providing care to patients with diabetes.  In her view, while it is a complicated disease, the treatment does not have to be.  Communication and education are key – and the whole family has to be involved.  Managing diabetes means lifestyle changes that work best when the patient's family adopt them together.  Because Type 2 diabetes, the most common form, runs in families, these changes can benefit everyone in the family.  Chelsea shared that the ability to provide telehealth visits that began during the pandemic has been a real asset in caring for patients with diabetes.  Especially for new patients, getting the right medication dosages can take some trial and error and a short telehealth visit to discuss blood sugar levels and make adjustments can be just as effective as visiting in person.   Patients can often fit these visits into their day, even at work, without having to travel to ChesPenn.
October 6 – 10 is National Physician Assistant Week.  It' to s a good time to reflect on the contributions made by physician assistants (Pas) to the health of the community.  PAs provide preventive health services, diagnose illness, develop and manage treatment plans, prescribe medications, and often serve as a patient's principal healthcare provider PAs are highly trained, licensed professionals who work collaboratively with a physician as part of a team approach to healthcare.  As such, they are often patients' primary health providers, consulting with the team physician as needed in complex care cases.  This model expands our ability to provide quality care while managing healthcare costs.
Since she joined ChesPenn in 2009, Chelsea's family has grown.  She has three children under 6 and has adjusted her schedule to ensure a healthy work-life balance.  But her passion for community health is undiminished.  She shares her pride in her work with her children, instilling her love of community service in them even at their young ages.  Chelsea's dedication to caring for others embodies ChesPenn's spirit.