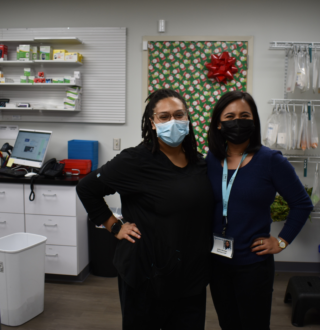 In November 2021, ChesPenn Health Services officially launched our partnership with RiteChoice Pharmacy. RiteChoice Rx, founded in 2013, is a full-service, independent pharmacy chain dedicated to providing patients in the Philadelphia area with quality pharmacy care. Originally a retail only store, RiteChoice has evolved to meet  the need of medically underserved communities across Philadelphia for pharmacy services. RiteChoice now operates five pharmacy locations in the greater Philadelphia area.
The pharmacy at ChesPenn Health Services is RiteChoice's first location in Delaware County. They operate a full-service pharmacy at our Eastside location with free same day home delivery, medication transfers, and no wait time for all ChesPenn patients—regardless of location. The pharmacy staff, comprised of pharmacist Jullien Navizaga and pharmacy technician Vanique Sanzone, are on hand to provide no cost medication consultations and answer questions about medications or refills during health center hours.
We are excited to offer this expansion of prescription medication services to our patients. ChesPenn and RiteChoice are dedicated to providing patients with quality care by improving communication practices between the patient, provider, and pharmacy. The RiteChoice Rx pharmacist is able to access ChesPenn's integrated medical record to communicate directly with our providers to ask questions about doses or concerns about drug interactions. This streamlines the process for patients by not having to wait for a third-party pharmacist to call their provider at ChesPenn and speak to them regarding their questions or concerns. Patients are able to be taken care of, right then and there in the health center. RiteChoice also provides blister packaging for some prescriptions to preserve freshness and deter tampering. The blister packages allow for individual "serving sizes" so the patient gets their right dosage, every time.
You can get to know our Pharmacist, Jullien, and our Lead Pharmacy Technician, Venique, on the RiteChoice website!