Family Medicine Residents Graduate
Dr. Tina Ahmadinejad is starting a fellowship in which she will care for patients known as "super utilizers" – men and women whose complicated health and socioeconomic challenges send them to the emergency room frequently. She will be teaching her patients how to manage their illnesses so that they can avoid hospital stays in the future.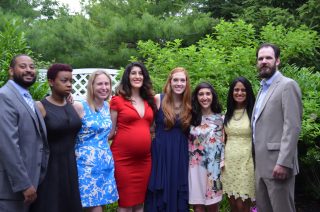 Dr. Ahmadinejad just graduated from Crozer-Keystone Health System's Family Medicine Residency Program. She and three other residents chose ChesPenn's Center for Family Health at Upper Darby as their primary practice site. Inspired by her experience with our program, she plans to devote her career to community medicine.
Dr. Ahmadinejad reflected on her experience at ChesPenn, "I am so grateful that ChesPenn exists. I was able to get to know both my patients and their families – I don't want to give them up. And the working relationship with the preceptors is intimate here. You really get their full attention. Dr. O'Kicki is an amazing teacher."
ChesPenn partners with Crozer-Keystone Health Systems to provide a Family Medicine Residency Program grounded in community health care. Dr. Letitia O'Kicki, ChesPenn's Medical Director, is also a faculty member in the program. Family Medicine residents who practice at ChesPenn develop an understanding of the challenges and needs of adults and children of all socioeconomic and cultural backgrounds. Many of their graduated residents have chosen to pursue community medicine as a calling.
According to Dr. William Warning, Director of Crozer-Keystone's Family Medicine Residency Program, "We are training the next generation of family practitioners. And we are creating a multiplier effect: we train students who care for and teach their patients how to care for themselves. They will also interact with other physicians, teaching them the principles of community health care." He added, "Our program is unique in the eastern United States. I appreciate ChesPenn's support in making this exceptional learning experience possible."
Dr. Ahmadinejad wants to work in a community health center after she completes her fellowship. A native of Delaware County, she also feels a strong connection to Upper Darby and Chester. We hope she will come back as a family medicine practitioner in the future!