Bridging the Gap: Follow Up
With school well underway, checked in on the pediatric medical and dental integration pilot program at Eastside. This program helps bridge the gap in care between pediatric medical and dental care. In August, we spoke with pediatrician Dr. Kai Turner about what this means for the pediatric providers, but what does this mean for our dental care providers? We asked our Public Health Dental Hygiene Practitioner, Tye Spady-Blair, all about it. Tye joined the ChesPenn team in March of 2021, and she has been making an impact ever since.

How has the integration been going?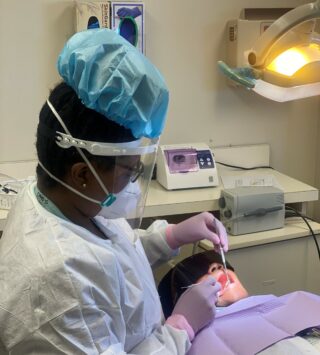 ---
This program helps to bridge the gap in care between the medical and dental departments. Because dental and medical care are rarely co-located, there is often a disconnect between the two.  One of the advantages of a fully integrated health center is our ability to create these cross-disciplinary collaborations.  Tye helped her last health center bridge build a similar collaboration, so she understands the process. She's passionate about meeting patients where they are and helping them move forward. It's one of the reasons our patients and staff love working with her.
When an increase in pediatric dental patients occurred after the integration started in July, Tye noticed. Eastside Dental sees many pediatric dental patients over the summer. Most schools require completed dental forms before the new academic year. It's also easier to schedule an appointment when the kids are out of school. In-appointment reminders from pediatricians help families remember to check their children's teeth before the back-to-school rush.
How does this help ChesPenn patients?
---
The main benefit of this program continues to be the convenience of scheduling appointments for both medical care and dental care in one space. According to Tye, "it really goes back to the convenience part of it. When patients come in for their physicals, they check the entire body. A lot of time, the teeth aren't really stressed in pediatric care." It's a real benefit to have the support of her coworkers, like Dr. Turner, in making this program easy and accessible to patients. For Tye, she is the most excited about having the chance to sit down with families to discuss their health as a whole.
Tye believes one of the other benefits of this program is talking with patients about the importance of proper dental hygiene. "So, to be able to reach [our patients] and have a conversation on the importance of taking care of those baby teeth and how important they are for the development of adult teeth," Tye said. Educating parents on dental health is also essential to help children develop healthy habits that follow them to adulthood.
ChesPenn is considered a one-stop-shop for our patients… They are able to get service for the whole body here in the same place. – Tye Spady-Blair