Making Your Crucial Catch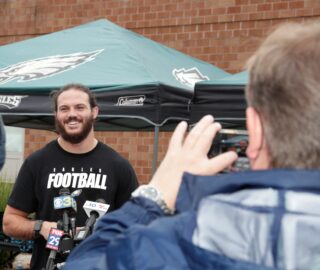 In October, ChesPenn partnered with the American Cancer Society and the Philadelphia Eagles to stress the importance of a healthy lifestyle and routine doctor's visits to maintain a healthy lifestyle. Making that 'Crucial Catch' is significant year-round, not just in October. What can regular visits to your doctor and cancer screenings do?
To start, they help you stay on top of your health so you can notice if something seems off. And the better part? Most insurances now cover preventative cancer screenings such as mammograms and colorectal cancer screening.*  The sooner you 'catch' cancer, the better. Early detection can prevent cancers from spreading and increase the effectiveness of treatments like chemotherapy or surgical removal. But it's easy to put them off, especially with the pandemic.  So, where to begin? The American Cancer Society uses these basic guidelines as recommendations. Talk to your healthcare provider to customize these screenings to protect you best.
According to the American Cancer Society, these are the basic screening recommendations:
Age 25-39: cervical cancer screening for people with a cervix
Age 40-45: breast cancer screening recommended at age 45, but can opt to start screenings at age 40; cervical cancer screening; colorectal cancer screening recommended for everyone at age 45; prostate cancer screening at age 45 if you are African-American
Age 50+: breast cancer screening; cervical cancer screening; colorectal cancer screening; prostate cancer screening as recommended by your doctor; lung cancer screening if you used to smoke or currently smoke
What else can I do to prevent cancer?
In addition to routine cancer screenings, it's also essential to eat healthy, including lots of fruits and vegetables, watch your weight,  and get regular exercise. You can avoid smoking and heavy alcohol consumption. Try wearing appropriate sunscreen and protecting your skin from harsh weather.
One of the most important factors preventing cancer is knowing yourself and your risks due to family history or lifestyle choices. It can be hard having conversations about personal health history with your family members. Still, it's essential to know if any cancers run in your family to protect yourself better.
How can I start assessing my risk for cancer?
Your health care provider is your best resource, but if you're still unsure where to start, you can get a basic assessment of your cancer risk using the Defender tool. In partnership with the National Football League, the American Cancer Society developed the Defender tool to help you understand your cancer risk. Once you've taken the quiz, you may want to call your healthcare provider to schedule an appointment to discuss your next steps in cancer prevention.
If you're interested in taking that next step to better health and getting screened, you can call ChesPenn at 610-485-3800 to make an appointment with a provider to discuss your next screening.
*Call your insurance company to confirm what specific services your plan covers.