Center for Family Health at Eastside: Small But Mighty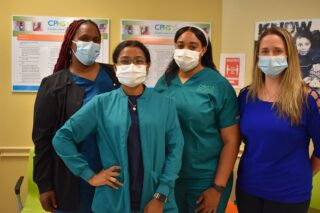 ChesPenn's Upper Darby site is tucked into a tiny building on State Road ust south of West Chester Pike.  It's easy to miss unless you're looking for it, but extraordinary things happen there every day.  Upper Darby is unique among ChesPenn's locations.  Its medical providers are all Family Medicine Residents and Preceptors in Crozer Health's Family Medicine Residency Program.  ChesPenn and Crozer have partnered since 2005 to provide training in family medicine while simultaneously caring for residents of the diverse community in Southeast Pennsylvania.  Today, over 70 Family Medicine Residents have graduated from the program and almost 4,000 adults and children call ChesPenn's Upper Darby office their healthcare home.
The small, tight-knit team of four Medical Assistants, two Patient Service Representatives, Social Services Coordinator Fariha Trisha, and Behavioral Health Consultant (BHC) Michelle Quigley are led by Yvonda Romeo, Upper Darby's Office Manager.  Nurses from Eastside serve the site on a rotating basis and ChesPenn's Community Health Educator, Tina Beahm, is there two days a week to coach patients on smoking cessation, nutrition, and other healthy lifestyle choices.  On a given day, three residents and a preceptor are on hand to see patients.
Sue Ramberg is one of two registered nurses who work at Upper Darby shared that "The reason this office works is that we work as a team.  I've had days that should have been really hard, but the MAs, the front desk staff, Michelle, and Tina all pitched in to help. The MAs are incredible and there is such an atmosphere of gratitude.  Yvonda is an amazing Office Manager.  She is so compassionate.  She enforces the rules but in a loving, caring way."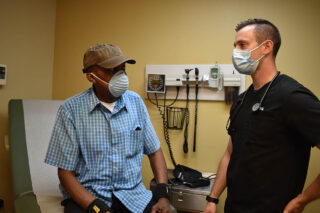 Yvonda herself has had an inspiring journey with ChesPenn.  She began in 2017 as a temporary worker at the front desk.  She loved the spirit she encountered and in turn impressed her supervisor and was hired full time.  In 2021 she was appointed Office Manager.  Yvonda said about the Upper Darby team, "In spite everyone's differences, we come together for our patients.  We call them our neighbors; we see their kids grow up.  We're really involved in the community here."
Craig Parker, a long-time patient at Upper Darby, has experienced the benefits of this outlook firsthand.  Several years ago, Craig was in a motorcycle accident.  He still experiences hand tremors and the effects of damage to his knee.  Over the years, he has used alcohol and nicotine to help manage the lingering effects of his accident.  At Upper Darby, he sees a physician regularly and has worked both with Michelle and with Tina and has dramatically decreased his alcohol and nicotine consumption.  He shared that he's grateful for the care he's received and has a great relationship with the staff.
Dr. Thomas Yuen has been a preceptor with the program since 2012.  He distilled the Upper Darby experience to his essence with his reflection:  "I have been working at UD since I joined Crozer in 2012.  There have been many ups and downs- including staff changes, the constant search for a new location, and a little thing called COVID-19.  But despite these challenges- what keeps me working here is everyone's complete dedication to serving the most vulnerable and disenfranchised among our community. The work here is hard and often our rewards from our patients are limited to a sincere thanks, a plate of home cooked food, or a card at Christmas.  But despite the difficulties and occasional frustrations, I cannot see myself working anywhere else.  In a single day, I will see a Spanish-speaking family who has just arrived from Ecuador.  A young Liberian woman struggling with PTSD from childhood trauma.  A patient of mine that I've known for 10 years, who was born and plans to die in her family home in West Philadelphia.    We still have many challenges ahead of us, but I have no doubt that the staff, residents, and physicians here will continue to persevere to provide the best care possible to our patients."