---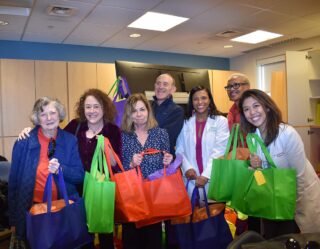 In February we reported on the wonderful Better Start for Babies Program initiated by our friends at Congregation Beth Israel. We've been excited about this program since its inception in 2021 and now it's getting attention from local foundations. Dr. Ashley Henderson (pictured far right with Congregation Beth Israel volunteers and ChesPenn staff), a Crozer pediatrician who works at our Center for Family Health at Eastside, has been awarded the prestigious 2023 Mary DeWitt Pettit, MD Fellowship by Drexel University to study the positive mental health benefit to new moms of receiving our Baby Bundles.
At almost the same time, the Social Action Committee of Congregation Beth Israel, located in Media, successfully applied for a grant from the Foundation for Delaware County to help underwrite its "A Better Start for Babies" in its 2023-2024 drive. We reached our goal of 30 bags in our first year, 75 in the second, and attained our "stretch goal" of 150 bags of baby essentials in this past year. With the help of the grant, our goal for next year is 180 bags. This is hoped to be enough to provide a gift bag for each mother cared for each year at ChesPenn in Chester. The grant also noted that Beth Israel collaborated with neighboring synagogues Ohev Shalom in Wallingford and Beth El-Ner Tamid in Broomall, giving a strong, cross-county basis of support for the program going forward.
"We are thrilled to get these bags to every new mother at ChesPenn who needs one. With the grant, we hope to grow to help even more moms and babies." –John Greenstine, chairperson, Beth Israel Social Action Committee.
---