ChesPenn Hosts Americorps Nursing Intern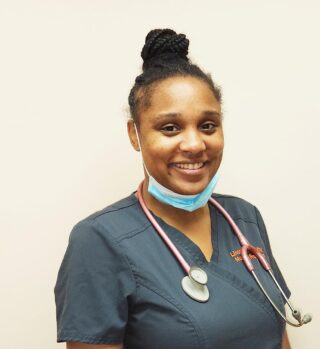 Dequacia Catlin is a nursing student in her senior year at Lincoln University.  In 2022, she received an email from the university inviting her to apply for an internship with Americorps' Public Health Nursing Fellowship. She was selected and placed at ChesPenn's Center for Family Health at Coatesville in October.
Dequacia remembers that her interest in nursing goes back 10 years. "When I started in community college I majored in criminal justice, but it didn't feel like my niche.  In 2012 I took a Certified Nursing Assistant (CNA) course and when we had our clinicals I liked it.  I started working at the hospital as a CNA."  Later she went on to enroll in Lincoln University's Bachelors program in nursing.
"In the beginning my academic experience was a little tough.  You start with the prerequisites and then you're thrown into this program where you are required to critically think.  But as I learned and did some tutoring, my grades got better."  Her grades were critical to her success.  Lincoln requires a B average to remain in the nursing program. She shared that, " I've been on the Dean's List every semester.  I've been really grateful to Lincoln University because they push their students."  They push us to learn clinical reasoning and judgement."  She's also enjoyed the friendship and support of the staff.  "ChesPenn has been really great to me.  I've learned things.  I really like it.  I can learn here."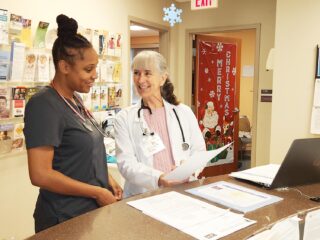 Dequacia has encountered surprises and some challenges along the way.  She's learned a lot about what it means to provide care in a vulnerable community. "Some things have surprised me as far as interacting with the patients.  Just seeing the diverse community that comes here –  no matter who they are or whether they speak  English or not we're able to communicate with them and give them the best care possible. I really love that ChesPenn is  able to relate to the patients.   They really trust the staff – the front desk staff are so open.  That makes a difference in a person's life.  I feel that ChesPenn goes beyond to make the patient feel like a person.  In other places I've seen the patient is more like a number, but here, they know their name, their children, their family."  She also acknowledged the challenge of contacting patients who often rely on prepaid phones or who may take time to get back to us.
An avid traveler, Dequacia has visited countries in Latin America and the Caribbean and has studied in Ghana.  In her travels, she's seen the impact of health disparities in in the regions she has visited.  Her experience has inspired her ambition to pursue a career in public health.  And she has very specific goals – first, to work at the county level in health and human services while she works on a master's degree in public health, then a role at the CDC and on to the World Health Organization.
Even Dequacia's leisure time is dedicated to community service.  She belongs to Chi Eta Phi Nursing Sorority.  When she's not in school she often volunteers in the community.
ChesPenn nurse Kenisha Parks has served as Dequacia's mentor at ChesPenn.  She has been impressed with the Americorps nurse internship program and especially with Dequacia.   "You don't run across those kind of students all the time" she commented. " The patient comes first with her always.  She's going to go a long way." We're proud to be part of her journey.