Dr. Kelly Dickson to Join Upper Darby Provider Team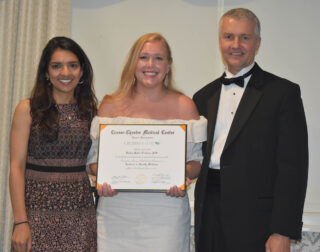 On June 30th we gathered to celebrate the graduation of the Crozer Health Family Medicine Residency Program's  3rd year residents.  Crozer's Family Medicine residents and faculty provide all patient care at our Center for Family Health at Upper Darby.  We're excited to share that one of the graduates, Dr. Kelly Dickson, will join the Crozer faculty at Upper Darby after graduation.
Dr. Dickson majored in psychology and worked in a research lab after graduation.  She saw residents engaged in direct patient care and wanted to find a way to combine the two, so she enrolled in biomedical sciences at Philadelphia College of Osteopathic Medicine.  She was introduced to primary care early in her training at PCOM.  She realized as a family medicine physician she could see expectant moms, children, adults, and seniors.  The idea of providing a continuity of care and of caring for whole families appealed to her.
Dr. Dickson describes her residency at Crozer as a great educational experience.  "As an intern you're just learning, soaking up as much as, you can.  By 3rd year, you're more independent, seeing more patients, providing inpatient care, and teaching interns and med students."  She excelled as a resident and was named one of two Chief Residents in her third year.
Teaching is one of Dr. Dickson's interests.  She developed a five-week curriculum with preceptor Dr. Ashu Singh on managing hypertension and diabetes.  She also won the Resident Quality Improvement Award and is looking forward to refining the course in the coming year.
A native of Columbia, Maryland, Dr. Dickson has come to love Philadelphia.  She especially enjoys the great walking and running trails.  Her two younger brothers also moved to Philadelphia for medical school.
ChesPenn is proud to partner with Crozer Health's Family Medicine Residency Program.  Together we are nurturing the next generation of family medicine physicians and ensuring their engagement in community health.  We are excited to have Dr. Dickson join the Crozer preceptors at Upper Darby, coaching the next cohort of residents and caring for our
patients.