Getting the Lead Out: Screening for and Treating Lead Poisoning in Children
For many of us, lead poisoning in children feels like an obsolete issue.  Haven't we banned lead in paint for decades?  How would a child be exposed in this age of child-proofed homes and regulation of toxic chemicals in products designed for children?  Sadly, lead poisoning is hardly a thing of the past.  One in 40 children ages 1-5 years old has blood lead levels that are considered unsafe.  Lead paint is still on the walls in too many older buildings, often in neighborhoods where low-income families live.  In fact, it's estimated that 80% of houses and apartments in Delaware County are likely to have lead paint.  Children living in highly industrialized areas may pick it up from the soil.  Other sources include water from old lead pipes, food stored in bowls glazed with lead-based glazes, art supplies such as solder for stained glass, and even some imported candies and herbs.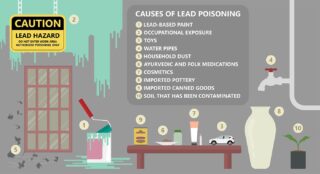 Symptoms of lead poisoning include:
loss of appetite
feeling tired or irritable
poor growth
nausea and vomiting
constipation
stomach pain
joint pain and muscle weakness
headaches
Lead testing is also recommended for kids who live in an older home or whose parent has a hobby or job that involves being around lead. Any child who might have been exposed to lead should get tested.
How Is Lead Poisoning Treated?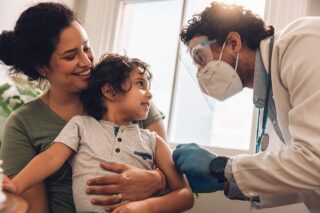 The most important part of treatment is preventing more exposure to lead. The doctor will ask about the home to try to identify possible sources of lead. If a child has lead poisoning, all siblings should be tested.
Calcium, iron, and vitamin C are important parts of a healthy diet and also help decrease how much lead the body absorbs. The doctor may recommend a multivitamin with iron for a child who doesn't get enough of these important nutrients in their diet.
Kids with high lead levels and symptoms of lead poisoning may need care in a hospital to get a medicine called a chelator (KEE-lay-ter). The chelator helps remove the lead from the body.
The effects of lead on development may not show up for years. Doctors will closely follow the development of children with lead exposure at all regular checkups.
Because there is no safe level for lead, try to protect kids from it. To help prevent lead poisoning:
Ask your doctor about having your kids tested for lead exposure.
Get your home checked for lead if it was built before 1978.
Get your water tested. Call your local water department to find a laboratory that will test your water for lead.
Regularly clean floors, windowsills, and dusty surfaces clean with a wet cloth or mop.
Wash your kids' hands and toys often.
Remove or wipe shoes before coming into the house.
Keep kids away from soil around old homes and busy roads.
Fix areas with peeling or chipped paint, such as windows and porches.
Follow safe practices when removing lead-based paint hazards. Find a lead-safe certified contractor for home renovations.
Serve a variety of healthy foods, such as dairy products, lean meat and beans, and fruit and vegetables.
For more information, including resources for lead removal, go to https://www.childrenfirstpa.org/issues/child-health/lead-poisoning/