Getting to Know Us: Jamie Merwin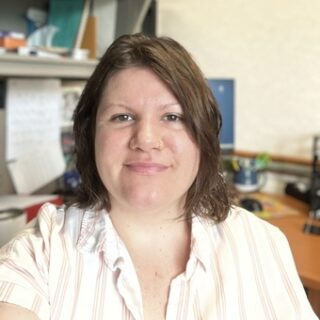 This month we have a bonus introduction – ChesPenn's newest Behavioral Health Consultant (BHC) Jamie Merwin.  The addition of behavioral healthcare to our primary care model is one of our proudest accomplishments.  Our ability to address patients' mental health needs immediately in-house is so important to their well-being and during National Mental Health Month we are especially excited to introduce Jamie Merwin, LCSW, who has joined the team at the Center for Family Health at Eastside.
Jamie's career path developed at an early age.  "I've always been interested in human behavior and emotions, but when I was an undergrad I was drawn more to politics and societal issues."  Then after graduating she found herself working in a homeless shelter for women and her interest focused on individual mental health.  This work was gratifying and she wanted to do more.  She went to graduate school and then took a job as a counselor in Crozer's drug and alcohol program.  As a part of that program, Jamie facilitated a women's trauma group.
Jamie learned from a colleague about the behavioral health consultant approach that integrates behavioral and medical healthcare.  She was intrigued by the idea and applied for the open position at ChesPenn's Eastside health center in Chester.  She joined ChesPenn in February.  "It's been great.  Everybody has been really supportive," she commented.  "Each provider has their own way of reaching out.  I've noticed that because of the breakdown of behavioral health services in the area there are a lot of patients who aren't usually seen in primary care – especially children and teens.  There are no openings for kids.  We're seeing undiagnosed ADHD and suicidal ideation.  It's tough."
An example was a teenaged patient who was referred to her for suicidal thoughts.  She was pregnant and had no reliable, supportive adult in her life.  Jamie met with her weekly and connected her to resources that she would need for her baby.  Having an adult in her life whom she could trust made a real difference in this young girl's life.
Jamie describes her style as "above all things patient-centered.  Meet people where they are.  Some of our patients have masters degrees.  Some have a middle school education.  People just want to be heard.  Let people know they have my respect and undivided attention."
Pediatrician Dr. Kai Turner shared her enthusiasm about having a skilled BHC on the team.  "Jamie has been a pleasure to work with!  She is receptive to requests to meet and help pediatric patients and their parents who are struggling with mental health issues and life stressors.  I have personally worked with Jamie in the room with patients and she is compassionate and a great listener.  She is very knowledgeable about available resources and has been great with following up with patients and providing updates to providers to keep us in the loop."
In her free time, Jamie practices what she teaches her clients about stress management. She loves to hike in nature and keeps a garden.  Many of her friends are artists and she enjoys attending musical performances.  Most of her family lives in Delaware County and she visits often.  She also enjoys a supportive network of social workers who support and coach one another.  All great habits to cultivate during Mental Health Month!