Getting to Know Us – Letitia O'Kicki, MD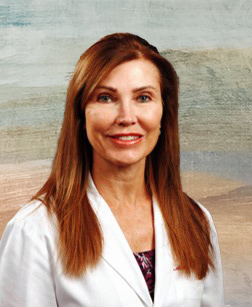 Letitia O'Kicki grew up in a small town in western Pennsylvania.  The eldest of 7 siblings, caring for others came naturally and her maternal uncle, who was a family medicine physician, also had a profound impact on her.   "We had this close relationship so when I went to Penn as an undergrad and Temple medical school and began to take rotations I would go back home and take them with my uncle in his office.  He was very warm, very tender, very nurturing and had a really wonderful relationship with his patients.  He took care of generations of families which was really nice to see.  When a woman went into labor in a in a snowstorm someone would come on a snowmobile to take him to deliver the baby.   He was just a great role model and mentor."
After medical school Dr. O'Kicki first pursued surgery, attracted by the fast pace and high energy.  After a year of internship she realized that surgery wasn't a fit for her and she once again turned to family medicine.  And again, her family became an important influence on how she thought about practicing medicine.
"When I was a fourth-year medical student my grandfather got very sick.  He had cholangiocarcinoma which is a very difficult cancer even now to treat and he died within six weeks.  I was very grateful that I was given the time off to go back and be with him.  One of the things that struck me was that every patient is someone's family member.  No matter who you're treating, you treat them as if they're your family member because they belong to someone.   It really helped develop my empathy for patients and their families.   I decided right then that I wanted to work in an FQHC in public health.  As soon as I walked through the door (at the City of Philadelphia Ambulatory Health Services) I said this is where I belong.
"Every single day I would be happy to go to work and every single night I thought I'm so grateful for what I have but also boy I'm so glad I went to work today."  The ability to help patients get connected to services, diagnosing their illnesses made every day of her 12 years with the city fulfilling.
After taking some time for her family and for research, Dr. O'Kicki was ready to dive back into primary care.  In 2012 she learned of a faculty position at Crozer in their Family Medicine Residency Program.  She found that the position would be at the Center for Family Health at Upper Darby, which operated in partnership with ChesPenn.  She jumped at the chance to get back into a community health setting and to teach the next generation of family medicine residents, passing on the passion and dedication she'd learned as a child from her uncle. In 2016, after Dr. Rekha Yagnik's passing, she became ChesPenn's Medical Director and was named Chief Medical Officer in 2020.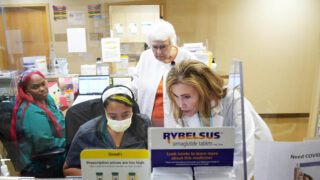 "I really love what I do.  Doctor Yagnik laid a strong foundation, and we want to build it higher and stronger and with Sue (Susan Harris McGovern) as CEO we have a really nice team."   Under Dr. O'Kicki's direction, ChesPenn participates in nationally recognized programs including the American Heart Association's Million Hearts Program and Crucial Catch, a collaboration with the American Cancer Society and the NFL.  The leadership team is also exploring possible new collaborations with major health care systems in the region, made possible in part because of Dr. O'Kicki's academic appointments at Drexel and Temple Universities.
In the next 3 to 5 years, Dr. O'Kicki sees ChesPenn continuing to grow, adding new programs and expanding our current services.  One project that's especially important to her is an expansion of the Upper Darby location and addition of dental care there.   She envisions ChesPenn continuing to explore cutting edge approaches to community health and teach new generations of healthcare professionals her own irst lesson as a physician – that every patient is someone's mother, father, sibling, or child.