Getting to Know Us: Melissa Hernandez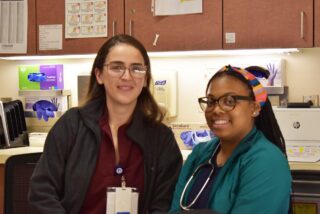 Read any article on the place of nurses in healthcare and you'll see them described as the backbone, heart, or foundation of healthcare.  Nurses play a critical role in the provision of care – they provide direct care, they teach, they advocate, and they often serve as care coordinators for their patients.  Nationally, we are experiencing a critical shortage of nurses, and ChesPenn is extremely fortunate to have a team of truly gifted and dedicated nurses.  In May we celebrate National Nurses' Week, and we thought this would be a good time to introduce the newest member of our nursing team, Melissa Hernandez.
Melissa and her four siblings grew up in the South Bronx area of New York City.
They were raised by her paternal grandmother, a native of Puerto Rico.
Melissa first became interested in nursing when she became a mom at 16.
She was inspired by the home care nurse assigned to help her navigate the first months of motherhood.
Melissa began by training as a medical assistant and phlebotomist.  She relocated to Bucks County and enrolled in
Bucks Community College's nursing program while continuing to work as an MA.  After completing that program
she went on to Jefferson School of Nursing with help from a scholarship from the Health Resource and Services
Administration's nursing corps.  She received her Bachelor of Nursing degree in 2022.
Melissa's background and Spanish fluency have been real assets in caring for her patients.  Her own familiy experienced struggles similar to the ones our patients face. In addition, having worked as a medical assistant and phlebotomist, Melissa is comfortable helping wherever she is needed.  One patient she worked with recently was from Puerto Rico and was struggling to communicate with her provider through the interpreter.  Some Spanish words have different meanings depending on dialect and Melissa realized that a word the patient used referred to an entirely different part of the body than the interpreter had indicated.  She was able to help the patient clarify her concern.  This patient also needed to have her blood drawn and was apprehensive because she'd had difficult experiences with blood draws in the past. Because of her previous training as a phlebotomist, Melissa was able to find a vein on the first try and with little discomfort.
Melissa has become a valued member of the medical team at ChesPenn's Center for Family Health at Eastside.   Director of Operations Elide Marquez Romero commented that "Melissa is very thorough.  She's a great help espeically with Hispanic patients.  She's been commended by many of the providers."
Melissa feels that the key to good nursing is to have empathy and be a good listener, especially in a community health setting where as she puts it, "patients are dealing with a lot."  She also recommends getting comfortable with computers and with the many hats a nurse is asked to wear.  And keep learning.  "I love to learn," she shared.  "I'm a sponge. And I love what I do.  I love the motto that if you love what you do you'll never work a day in your life."