Getting to Know Us: Ashlee Mathis NCMA, BSHA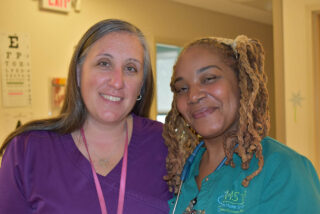 When you go in for a medical visit you probably think "I'm going to see my doctor" not "I'm going to see my medical assistant."  But your medical assistant can be just as important to your care as your doctor.  They take your vitals, get your history, and may administer vaccines.  You and your doctor both depend on their training and dedication to make sure you get the care you need.
At ChesPenn, Ashlee Mathis trains and supervises all of our medical assistants.  Twenty years ago, she started her career at what was at that time Crozer's Center for Family Health at Upper Darby.   This site eventually became the location of Crozer and ChesPenn's collaboration to provide family medicine residency training in a community health center setting.  Ashley worked for Crozer for 17 years, becoming the Clinical Manager for the Residency Program.  She then spent 5 years in Population Health where she developed the training programs for Crozer's Family Medicine MAs.
In 2019 Ashlee joined ChesPenn as Clinical Support Manager, leading MA staff across all three sites.   She was drawn to ChesPenn in part by the extraordinary resources we can offer to patients.  "What I love most is the community we serve and resources we can provide.  Talking to patients who came here as kids and now bring their kids.  And the resources – social services, behavioral health dental care – you don't get that in most primary care practices.  It's a dream to have all of those services."
Ashlee was also excited about the payment model at ChesPenn, especially the fact that uninsured patients can pay on a sliding fee scale.  "When I first interviewed that was a big motivator," she shared.  "Because I worked in population health – I've seen the challenges for patients who are uninsured – what is available to them and what isn't."
The consensus among Ashlee's coworkers is that she is a strong, supportive leader, partner, and mentor.  Lead Medical Assistant Angie Moore described her as "a team player who is wise and is so many wonderful things.  She takes care of us; she makes sure we're ok.  She communicates well."  Office manager Elide Marquez Romero added, "Ashlee's willing to do anything that the patients need.    She cares about the patients.  We work great together – we've joked that just the two of us could run the whole office if we had to."
When asked about the challenges of her role she pointed to the staffing issues that ChesPenn shares with other healthcare organizations in the current workforce market.  "I think our biggest challenge is staffing but that's not specific to ChesPenn – that's everywhere.  The providers have been very accommodating – they and the nurses help us out.  We just work together as a team to overcome the challenges."
ChesPenn has recently received funding to launch a training program for medical assistants.  Ashlee is looking forward to the start of the program.  "I'm excited about the possibility of starting a MA training program.   This could open up opportunities for kids in the schools as well as for us. MAs are actually relatively new – only 20 or so years – and the training and scope of care have really expanded.  It's a great opportunity for someone coming out of high school to get started in healthcare."
Ashlee's experience as a trainer and leader makes her the perfect person to lead this new training initiative, building ChesPenn's ability to train and develop generations of young healthcare professionals for the future.