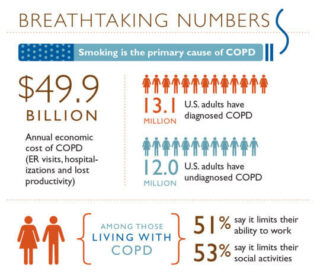 November is COPD Awareness Month – and not coincidentally, The Great American Smokeout is on November 17.  COPD, or chronic obstructive pulmonary disease, is an umbrella term for emphysema and chronic bronchitis.  Smoking is its primary cause.
COPD can progress for years undiagnosed.  Some of the first symptoms are shortness of breath, chronic cough or wheezing, chest tightness, and sudden tiredness.  While many people are not diagnosed until their 40s or later, cases in individuals as young as 20 have been confirmed.
If you've ever had a friend or loved one with COPD, you know the suffering it causes.  Breathing becomes harder by the year.  It becomes impossible to go out of the house without portable oxygen, and eventually even to get around at home without continued access to oxygen.  Flare-ups can mean visits to the emergency room when it suddenly becomes impossible to catch a breath, even with oxygen and breathing treatments at home.  The strain on the heart often leads to congestive heart failure.  It's a terrible disease and terrible to watch for friends and loved ones.  There is no cure, and treatment options are limited.
There is one easy way to prevent COPD – don't smoke and if you do, stop. Now.  ChesPenn offers smoking cessation counselling with free nicotine replacement under the Southeastern Pennsylvania Tobacco Control Project (SEPA).  Anyone interested in the program can contact Tina Beahm, Community Health Educator, at 610-485-3800 Ext. 687.  Find additional smoking cessation resources through the PA Free Quitline:  1-800-QUIT-NOW or https://pa.quitlogix.org/en-US/Enroll-Now .
November 17 is a great occasion to begin the journey to healthier lungs and a longer life!