Getting to Know Us: Olivia Juliano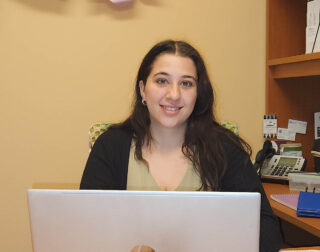 Olivia (Liv) Juliano joined ChesPenn on March 27 as our Coatesville Office Manager. She had previously served as Office Manager in a plastic surgery practice.  Liv found the Office Manager posting on Indeed and checked out our website. She was impressed by what she saw and reached out for an interview. Liv was looking for a position that was fulfilling, not only building her career but helping people who needed care.
Liv recently reflected on the experience of caring for patients in a community health setting.As Office manager, she sees her role as essentially ensuring that the day runs smoothly so that patients have a pleasant experience and staff can meet patients with a smile. She is available to staff to assist with questions about patient registration and payment issues such as discount eligibility and insurance coverage and can also respond to patient questions or concerns. She also ensures that the physical facility is in good condition and operating smoothly.
Liv has observed that ChesPenn's discount policy for uninsured patients makes healthcare possible for many people who otherwise would go without.  Many of ChesPenn's patients have incomes that fall below the federal poverty level and approximately 12% are unable to qualify for medical assistance.  However, the minimal fee for a visit makes our care easily accessible.  Even patients with medical assistance often struggle to find healthcare providers who will accept their insurance.  These patients can come to ChesPenn without worry about going into debt in order to get care.
"It's important for members of the community to come to ChesPenn," Liv explained, "because we can offer services that aren't available in a private practice."  Social services coordinators can link patients to resources like food, housing, and home health equipment.  Our Community Health Educator helps with smoking cessation, diabetes, and obesity.  And we're a one stop shop – the whole family can come here for medical, dental and mental healthcare.  "A private practice might send patients elsewhere to get the services that are all available here.
"Most of the people we see are stressed about their daily lives, not necessarily their health.  We get to help with all of that.  They might have a disability or need transportation and need help getting benefits.  We can help them fill out forms and tell them how to access the support they need."
This highly coordinated care is possible because of the team culture in our offices.  "The staff here makes my job easier than it could be," Live shared.  "They go the extra mile – staying late and going beyond their realm of responsibility to make sure everybody's taken care of.  They also take care of each other.  If someone's overwhelmed, they do what they can to help.  No problem is too big to solve."
Liv has enjoyed seeing patients create bonds with the staff.  One patient in particular that stands out for her is a gentleman who was consistently unhappy when he first came in for care.  Over the past few months, she has seen him become more positive, as he became confident that the staff cared about his wellbeing.  "I think other places might not offer the combination of emotional support and healthcare.  It's really nice that we've seen him grow as a person."
When she's not at ChesPenn, Liv loves to read and hike with her beagle-blue heeler mix.  She hopes to build a career in community health and eventually grow into a leadership role.  She sees ChesPenn as a bit of a hidden gem in western Chester County and hopes to help increase awareness in the community of our presence and the quality of care we offer.