Getting to Know Us: Samiyra Ojo, D.D.S.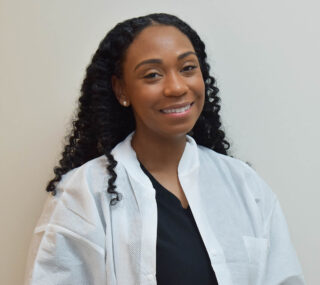 Samiyra Ojo grew up in Maryland with her mother and older brother. Early in grade school she discovered an interest in science and math. In 6th grade she entered a science fair. She chose a project that showed the staining effects of different substances on eggshells to simulate their effect on teeth and won first place.  According to Dr. Ojo, "I'd never won anything in my life.  I decided then that I was going to be a dentist.  That ignited my interest."
Dr. Ojo attended Towson University as an undergraduate, majoring in in molecular biology.  She chose Meharry Medical College School of Dentistry, one of the 3 top Historically Black Medical Colleges, and then completed her residency at Temple University's Kornberg School of Dentistry.
Speaking about the experience of learning dentistry, Dr. Ojo observed, "Dentistry is a hands-on job so you never know exactly what you're getting into until you're doing the work.  I knew I would be able to help people and better their oral health but I didn't really know how dynamic the profession is.  You're an artist, therapist, medical provider, engineer.  It's rewarding."
Dr. Ojo chose to work in community health in part because of her experience working on an Indian reservation in upstate New York.  She learned that she enjoyed being able to share resources with the community she served.  She also found that the pace of work in community health centers makes it possible for new practitioners to hone their skills without the pressure to produce at a level often demanded in for profit practices.  The National Health Service Corps' Loan Repayment Program is an added benefit that appealed to her.
Working with teens is a favorite aspect of her work.  "I enjoy most interacting with the younger population – teens and preteens, improving their oral health, cleanings or education, encouraging them to want to improve their oral health.  You can catch them before they get too set in their ways and help them get their hygiene under control."
Another aspect of care that's close to Dr. Ojo's heart is working with patients to restore their dental function and appearance.  "My denture patients are so grateful.  They've been in pain and haven't been able to eat.  Too often they don't eat well and they lose weight.  They're usually so emotional when they finally get their teeth.  It's really rewarding."
When she's not caring for patients, Dr. Ojo enjoys trying out new restaurants, visiting museums, and spending time with her husband and new baby.  She visits her family in Maryland whenever she can, and she likes to travel.  She's hoping to visit Europe soon.
Looking to the future, Dr. Ojo would like to have pediatric dentists and other dental specialists rotate through our dental offices so that we can better serve patients who need specialty care.  She would like to grow into a leadership role or teach one day.  Dr. Ojo exemplifies the vision expressed on Meharry Medical College's website: "We believe that health equity is key to alleviating suffering. Whether our graduates are physicians, dentists, scientists, professors or public health professionals, the Meharry experience equips them to affect the world as a force for change led by our motto: "Worship of God Through Service to Mankind."