A Team Approach to Diabetes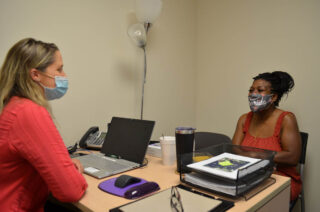 Sarah Johnson is a strong woman who is deeply tuned in to her body's signals.  Several months ago, she began to feel that something was off.  She noticed tingling in her hands.  During a visit with her OB/GYN at ChesPenn's Center for Family Health at Eastside she requested a urine glucose test and the results were shocking.  Her glucose level was over 600 – so high that her physician sent her to the hospital.  After she was released, we enrolled her in our Catalyst Program for patients with uncontrolled diabetes.  Funded and facilitated by United Healthcare, the program is offered in partnership with Manna of Philadelphia.  Manna's mission is "to use nutrition to improve health for people with serious illnesses who need nourishment to heal."   They provide clients with meals that are nutritionally tailored to their specific health challenges along with nutrition education.
A nutritionist from Manna met with Sarah virtually to provide nutrition counselling, ChesPenn's Community Health Educator, Tina Beahm, followed up with regular coaching meetings, helping Sarah understand how to keep track of the sugars, fats, and calories in the foods she ate, and offering encouragement along the way.  Manna volunteers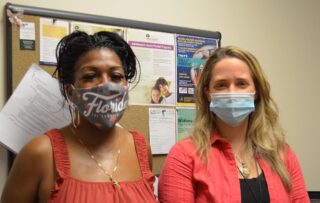 delivered 21 meals to her weekly.  At the end of the
3 month program, Sarah's glucose level had fallen to 187.
Tina sat in on our interview with Sarah.  The rapport between the two was clear as they described how they worked together. Sarah shared that Tina had really helped her think differently about her food.  She encouraged Sarah to read food labels carefully and Sarah was shocked at the amount of sugar in many products.  She began selecting foods that recreated her favorite meals from the Manna menu and learned to drink her coffee without sugar.  According to Sarah, the program "absolutely changed my life.  I feel better, look better, my life is better."
To date, 61 ChesPenn patients have participated in the program, with such outstanding results that we have received a second round of funding from United Health Care.  The synergy created by healthy meals and nutrition counseling courtesy of Manna
combined with healthcare and coaching offered by ChesPenn's physiciansand Patient Education Coordinator
have proven to be powerful tools to help
patients manage their diabetes.