Get to Know Us: Dr. Minyong Chen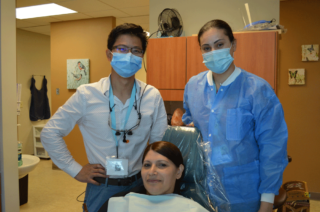 Dr. Minyong Chen had the best possible motivation for becoming a dentist – going to the dentist made him nervous!  He wanted to make dental visits as pleasant and fear-free as possible.  Dr. Chen was born in China and moved to Malvern with his family when he was 10.  He remembers thinking at that age that his old home must be just down the road – the vast geographic and cultural distance he and his family had travelled was more than a 10-year-old could process.  He attended dental school at Temple University.  He previously worked at Greater Philadelphia Health Action, another community Health center, where he received the Pinnacle Award for leadership and quality of patient care.
Dr. Chen joined ChesPenn on April 22 and provides dental care on Fridays to patients at our Coatesville health center.  Office Manager Susan Sullivan shared that they love him.  He teaches as much as he treats, and he makes his young patients feel like they're working with him as a team so they are not so afraid.  He shared that he finds practice both frustrating and rewarding.  Knowing patients don't really want to see him is difficult, but he enjoys seeing patients get excited when their pain is relieved or their smile restored.  As more parents understand the importance of preventive care, fewer children will have to experience fillings and fewer adults will need extractions and dentures as they age.
Dr. Chen also loves to teach.  He related the story of a seven-year-old boy who came in with multiple cavities.  In addition to filling his cavities, he spent time teaching the boy's dad the importance of good dental hygiene and regular visits, even for young children.  The health of baby teeth effects permanent teeth, but more important, cavities hurt and children don't always know how to tell their parents what they are feeling.  Worse, they can cause infection to spread through the entire system.
Dr. Chen looks forward to building relationships with his patients and we know he will be wonderful addition to the ChesPenn team.