Get to Know Us: Dr. Raquibul Islam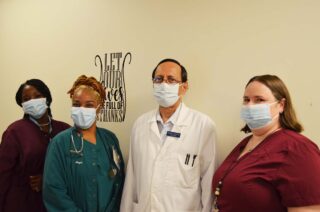 Dr. Raquibul Islam (Dr. I to his patients and coworkers) has been a ChesPenn physician for 22 years.  In that time, he has provided care for two generations of patients.  Many of the adult patients at our Center for Family Health at Eastside rely on him for their care – in fact, several of our own staff have been his patients for years.  Administrative Manager Mary McCullough, who has been his patient for almost 20 years, indicated that "he's very thorough and he explains everything.  He calls me to remind me to go to my specialist and diagnostic appointments."
Dr. Islam's choice of healthcare as a profession was a family decision.  His grandfather and father both encouraged him to study medicine.  He completed his medical degree at Dhaka Medical College in 1983 his residency in internal medicine at Fitzgerald Mercy Hospital in Philadelphia in 1997.  In 2020 he learned from a former intern whom he'd supervised that ChesPenn was looking for a primary care physician.  Our Welsh Street health center was near his home and after interviewing with founding Medical Director Dr. Rekha Yagnik, he decided it would be a good fit.
Over the years, Dr. Islam has seen ChesPenn grow and change.  He witnessed the opening of Eastside and has participated in a variety of initiatives to improve quality of care and workflow.  His most satisfying experiences, though, have been all about his patients.  For example, 10 years ago a 75-year-old woman came to him because a friend referred her.  She was suspicious of health professionals but Dr. I worked to build her trust.  She had a vague complaint about stomach pain that at first was difficult to diagnose.  Tests showed she had kidney cancer, but she insisted that she did not want surgery.  Dr. Islam was ultimately able to persuade her to have the surgery.  Ten years later, she is still his patient and is in excellent health.  When she visits, she tells him "I come to ChesPenn because you're here."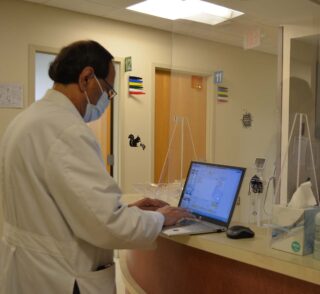 Dr Letitia O'Kicki, ChesPenn's Chief Medical Officer, had this to say about Dr. Islam, "As a long time physician in the Chester Community, Dr Islam is well respected by his patients and colleagues. His attention to detail, at listening to the patient, along with his extensive medical knowledge makes him an excellent diagnostician. Dr Islam passionately cares about his patients, their families, and community he serves. He is also a wonderful mentor and teacher. His dedication to high quality care serves as a great role model.
Dr. Islam said as we ended our interview, "I know all my patients well and ChesPenn has been good to me.  It's been a blessing.  I have no plans to retire.  I'll be here."