Getting to Know Us: Danielle Williams, M.D.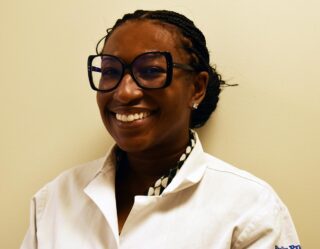 Dr. Danielle Williams joined ChesPenn as a Family Medicine physician at our Eastside health center in September 2022.  She had heard good things about us from the staff at the Health Federation of Philadelphia and was sold on ChesPenn when she visited Eastside and met CEO Susan Harris McGovern and Chief Medical Officer Dr. Letitia O'Kicki.   "I liked the fact that ChesPenn has multiple locations and has grown over time. It felt like there was stability and a vision for the organization – something that was growing and that I could be a part of." The team at Eastside also helped win her over.  She was impressed by the emphasis on patient satisfaction, and she was excited about the support staff who complement the care provided by the medical and dental providers.  "For example, if I see something going on with a patient, we have social workers who can help with mental health challenges or with resources the patient may need."
Dr. Williams first became interested in medicine when she was a teen.  Her mother was a nurse and she saw how satisfied she was with her work.  She remembers that "Mom felt real pride in what she did.  When other things in her life were difficult, her work helped sustain her." However, she didn't originally plan to go into direct patient care.  Despite an opportunity to shadow physicians in college, she chose to go into breast cancer research after graduation. She enjoyed the work but ultimately found it isolating.  She craved contact with people and decided to go to medical school.  Her first rotation was in family medicine and "It clicked.  I was happy.  I liked the residents and I liked the diversity of patients and diagnoses.  I could help a patient manage a chronic disease and then have a gynecology visit and then see kiddos.  No day is the same as the last.  That's what keeps me excited."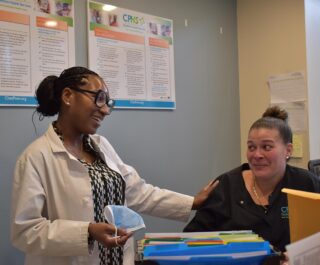 Building trust and relationships with patients is Dr. Williams' passion.  Her work with one patient has been especially inspiring to her.  When the patient first came to her, he had been in prison for 30 years.  During his incarceration he had come to distrust physicians, but during his first visit with Dr. Williams, he somehow sensed that she was listening to him.  He told her his entire life story during that visit. He appreciated that she treated him like a person – not a product of the system or his past.  From that point on, he was willing to do whatever she recommended.  He completed all the cancer screenings she prescribed. Together, they addressed old health issues that had been neglected for years. "My approach is I want people to feel human. You're not your disease process, you're not your past or where you live or how much money you make. None of that matters – just what hurts and how we can help."
Looking to the future, Dr. Williams will be transferring from Eastside to our Coatesville health center in February.  In the coming years she hopes to be able to expand on her skills, explore leadership opportunities, and help ChesPenn build partnerships that will take primary care beyond the walls of our health centers and out into the community. We are excited to have her join the Coatesville staff and help realize the vision for growth that drew her to join the ChesPenn team.