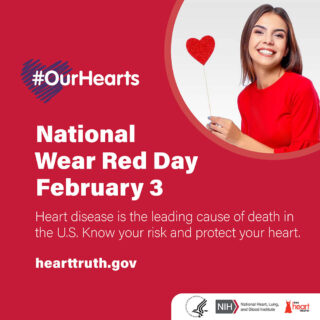 Get out your favorite red dress, sweater, blouse, blazer, or tie!

Friday the 3rd is Go Red for Women Day.
According to the American Heart Association, cardiovascular disease is the No. 1 killer of women, causing 1 in 3 deaths each year. It causes more deaths in women than all forms of cancer combined, but studies show that only 44% of women recognize the threat it poses.
Cardiovascular disease impacts some women at higher rates than others. For example, 57.6% of black females have hypertension, more than any other race or ethnicity. Pregnancy can also increase the risk for hypertension. Regardless of risk factors, the good news is that most cardiovascular diseases can be prevented with education, healthy lifestyle changes. and medication when necessary.
Heart disease and stroke can affect a woman at any age, making it vital for all women to understand their personal risk factors and family history. Women can also experience unique life events that can impact their risk, including 
pregnancy
 and 
menopause
. Furthermore, research shows that stress may impact health, making it important for women to understand the mind-body connection and how to focus on improving both their physical health and mental well-being.
We believe that losing even one woman to cardiovascular disease is too many.
This Friday, we'll be wearing red for women's heart health, but we won't stop there. ChesPenn participates in the American Heart Association's Million Hearts Program, which has a goal of preventing 1 million heart attacks and strokes over the next 5 years.  We combine new approaches to medication prescriptions with health education and home blood pressure monitors that are connected electronically  to patients' medical charts.
February is Heart Health Month, so we'll be talking about ways to take care of your heart health all month in our social media. Follow us on
Facebook, Instagram,
and
LinkedIn
for more.
To learn more about women's heart health and Go Red for Women visit
GoRedforWomen.org
– and wear your favorite red outfit on Friday to represent for women!