Getting to Know Us: Yvonda Romeo
In 2017, Yvonda Romeo came to ChesPenn's Upper Darby office as a temporary patient service representative.  She had served in other medical offices in similar roles but had never worked in a community health center.  She was surprised by the flexibility and responsiveness to patient needs.    She learned that we accommodated walk-in patients as much as possible and charged no fee for cancellations.  She liked what she saw and when an opportunity to apply to work for ChesPenn directly arose she took it.  She learned the ins and outs of patient services and impressed ChesPenn's leadership with her dedication and skill.  In 2021 she was promoted to Office Manager.
Yvonda has piloted the Upper Darby staff through the sometimes choppy waters of the pandemic with kindness and patience.  She facilitates the working relationship between the ChesPenn staff and the Crozer Family Medicine preceptors and residents who provide care at the site.  Perhaps most importantly, she sets a warm tone that welcomes the very diverse patient community that counts on us for care.  And it is truly a community.  Many of our patients come from the neighborhoods surrounding our little office on State Road.
Yvonda feels that working at Upper Darby has broadened her horizons and given her an outlet for caring for the community that she watched her grandmother model when she was growing up in Wilmington.
She loves meeting the different people who come through the doors.  "We cater to this community and they depend on us", she commented.  "Some people have never been to a doctor.  They are so grateful for what we do.  One day a Hispanic gentleman came in without an appointment.  We saw him anyway and found out that his blood pressure was high.  His provider prescribed medication and talked to him about ways to bring his pressure down.  He asked if he could hug us and said that we saved his life."
Of course there are challenges.  Some patients come to Upper Darby from very difficult situations in their home countries.  Some have been injured on their journey.  Some don't have clothing or shoes.  The staff pitch in together to buy gift cards for patients who are most in need, they buy toiletries and share their children's outgrown clothing.  Yvonda would love to hold an event for patients.
Yvonda comes by her leadership skills naturally.  She's a mother of three and grandmother to two with one more on the way.  She's especially proud of her 6th grader who loves to read and constantly gets high honors in school.  And she loves dinners with her family- either eating at home or going out together.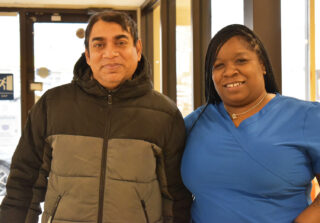 One of the unusual features of managing the Upper Darby office is working both with ChesPenn and Crozer employees.  Not only that, but the Family Medicine residents come and go, with new residents each year and those who have become familiar leaving for their first position as fully-trained physicians.  It's one of the aspects of this office that Yvonda enjoys.  "Everybody's learning.  We all help each other.   You get invited to weddings.  I go to their graduations.  When the 3rd year residents graduate it's almost like seeing my own child take that step.  Most of them want to move on to a place like this."
Yvonda is looking forward to the time when we can move our Upper Darby office to a larger space where we can accommodate more patients and add dental services.  Our hope is to be moving in the next 18 months and we'll be counting on Yvonda's organizational skills to help us grow into the new facility.
Dr. Thomas Yuen, one of the Family Medicine Program preceptors, had this observation:  "Yvonda is a great example of a servant-leader, she is always looking out for ways to encourage her staff- whether it is making sure we have enough coffee, planning special parties for our birthdays and going aways, or just chatting us up in the hallways about how life is going.  She is a great example of someone who cares just as much about the people she leads as she does the job we have to do."
Another of our physicians and preceptors, Dr. Philip Bixby added, "Yvonda is the heart and soul of our Upper Darby office. She has stuck with us through the entire pandemic keeping our front desk stable even when she was the only one working there for months. As a provider at Upper Darby, I know I can trust Yvonda with any issue that may arise in the office. She is my "go-to" colleague. She puts a great deal of effort into office morale: organizing small lunchtime celebrations for office staff birthdays and keeping our office looking fresh with holiday decorations. Yvonda is hardworking, a joy to work with and a true veteran of the Upper Darby office. We are so lucky to have her!"