Suicide and Health Equity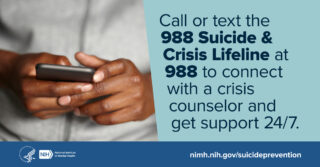 The Centers for Disease Control recently released a preliminary report on the suicide rate in 2022.  Sadly, suicide appears to have increased for the second year in a row after slight declines in 2019 and 2020, rising from 48,183 deaths in 2021 to an estimated 49,449 deaths in 2022, an increase of approximately 2.6% and the highest rate on record.
Even more disturbing is the longer-term increase among minority populations.  The suicide rate among Black people increased by 19.2% between 2018 and 2021, from 7.3 to 8.7 per 100,000, and it climbed most quickly among Black people ages 10 to 24, at 36.6%.  People of color across race and ethnicity are all at higher risk and are seeing increasing rates.  Other groups at higher risk include veterans, people who live in rural areas, sexual and gender minorities, and middle-aged adults.
September is National Suicide Prevention Month and the ideal time to focus on how we can work to change those statistics.  The National Action Alliance for Suicide Prevention and the 988 Suicide & Crisis Lifeline suggest 5 steps to help safeguard people from the risk of suicide and support them when in crisis:
Ask: Asking and talking about suicide may in fact reduce rather than increase suicidal ideation.
Help keep them safe: Reducing a suicidal person's access to lethal means is an important part of suicide prevention.
Be there: Increasing someone's connectedness to others and limiting their isolation has shown to be a protective factor against suicide.
Help them connect: Individuals who called the 988 Lifeline were significantly more likely to feel less depressed, less suicidal, less overwhelmed, and more hopeful by the end of calls.
Follow up: After you've connected a person experiencing thoughts of suicide with the immediate support systems that they need, following up with them to see how they're doing can help increase their feelings of connectedness and support. There's evidence that even a simple form of reaching out can potentially reduce that person's risk for suicide.
In addition to the 988 Lifeline, Chester and Delaware Counties offer resources for anyone struggling with a mental health crisis and for those who love them.  In Chester County, NAMI, the National Alliance on Mental Illness, has launched a new chapter.  Both Chester and Delaware County have Suicide Prevention Task Forces that offer training in suicide awareness and intervention, support groups, and other resources to raise awareness and provide support. Chester County also has a new mental health crisis response system including 24/7 telephone counseling, mobile outreach, and short-term voluntary residential care.
Local resources can be contacted here:
Chester County Suicide Prevention Task Force:  https://chestercountysuicideprevention.com/
NAMI Chester County:
https://namichescopa.org/
Chester County Mental Health Crisis Response:
https://www.chesco.org/1640/Emergency
Delaware County Suicide Prevention Task Force:
https://delcosuicideprevention.org/